Star Rating System
Category: Web Based PHP Program
Vendor: GraFX
SKU: ver. 2.4.0 / 15.01.2009
Product description
The perfect solution if you want to have a rating script on your page! Gregory Boshoff originally wrote this PHP script some time ago specifically for Developers Resources. We have since updated and adapted it for more general usage based on "Fast Template". It should work with both static and dynamic database driven Web sites. If you do anything to improve the scripts performance or find any bugs, please feel free to contact us.
» Features include:
Ajax version (new in v 2.3)
WORK IN HTML pages as JavaScript
Require some HTML, PHP knowledge
Based on templates that are easy to modify for your needs!
Easy install and setup; Simply edit the config.inc.php file and reuse article script.
Uses MySQL database for speed and reliability
PHP solution, 99% of the ISP support this language
» Download:
» Demo:
» Customer Testimonials
I wanted a rating system for a rather large website of mine, which is run on a mySQL database and has hundreds of pages. I wanted my users to be able to rate the content on each of those pages, this script did the job perfectly! The only one I could find on the net that was free and did exactly what I wanted. Got it set up in just an hour. Thanks very much to the makers of this script, great stuff. (Tom Rice)
» Questions?
Have questions about the software, how it works and whether you should buy it? Well why not ask us?
» System requirements:
Linux or Windows (or any OS which support Apache/PHP/MySQL), Apache 2.x.x with PHP 5.x.x (may work with older versions but we will not provide support for that version), MySQL 4.x.x or higher).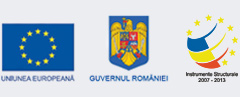 Programul Operaţional Sectorial "Creşterea Competitivităţii Economice"
"Investiţii pentru viitorul dumneavoastră"
Informatizare şi instalare de internet broadband la GraFX srl Proiect cofinanţat prin Fondul European de Dezvoltare Regională
Titlul proiectului: "Inovarea și dezvoltarea sistemului de comerț electronic al firmei S.C. GRAFX S.R.L."
Cod SMIS: 47124
Codul apelului de proiecte: POSCCE-AP3-O3.3.2 apel 2
Pentru informaţii detaliate despre celelalte programe operaţionale cofinanţate de Uniunea Europeană va invităm să vizitaţi
www.fonduri-ue.ro
Conţinutul acestui material nu reprezintă in mod obligatoriu poziţia oficială a Uniunii Europene sau a Guvernului Romaniei