Fast Template

Category: FREE PHP Classes
Vendor: GraFX
SKU: ver. 1.6.2 / 19.03.2009
Product description
» Overview
Templates are very useful for CGI programming, because adding HTML to your PHP code clutters your code and forces you to do any HTML modifications. By putting all of your HTML in seperate template files, you can let a graphic or interface designer change the look of your application without having to bug you, or let them muck around in your PHP code.
This is a modified version of the CGI::FastTemplate man page, originally written by Jason Moore jmoore@sober.com. It was ported to PHP by CDI cdi@thewebmasters.net.
In 1999 it was abbandoned by CDI but survived as a good template system over the time.
Since then several people tried to add new functionalities to Fast Template and also to make the code to be compatible with newest PHP versions.
We find Fast Template very usefull in our projects and we decided to put together all the time modifications and also to add some new functionalities to the program and release it.
So we merged CACHE function, debug console, silient removal of not-assigned dynamic blocks, ability of including php code into templates and also we added a NEW functionality, Pattern Assign. So when variables or constants are the same as the template keys, these functions may be used as they are. Using these functions, can help you reduce the number of the assign functions in the php files, very useful for language files.
» Why again FAST TEMPLATE?
We find Fast Template very usefull in our projects, even if now is on the market other template systems, like Smarty. Most PHP projects today use Smarty for this, but we won't. Smarty puts too much logic into the template itself. To avoid confusing or upsetting the web designer, the core template must look as much like a regular HTML page as possible. That means no strange looking iteration code and such. Instead, we'll use Fast Template. FastTemplate may not be as advanced and featureful as Smarty, but its syntax is definitely better suited for this problem.
Documentation now is in DOCS folder, we hope better documented.
function rewrite_link_href_callback
function rewrite_src_path - Rewrite js, css, and img src from template to a custom path
function set_output_rewrite_src_path - Rewrite all src="template_path/file" found in the document, very helpful when you want to edit the work template in a visual editor without any connection to the script path that will summon the work template output content.
function pre_filter - very helpful when we want to run some filter before the template being parsed
FastWrite and FastPrint improved
Anyway, there are a lot of improvements, documented in the DOCS folder. Please review it.
Also, we have included 1.3.0 to have the possibility to view a DIFF.
» Why use FastTemplate?
Please read entire article at: http://www.onlamp.com/pub/a/php/2003/10/02/modular_php.html?page=1
Speed - FastTemplate parses with a single regular expression. It just does simple variable interpolation (i.e. there is no logic that you can add to templates - you keep the logic in the code).
Flexibility - The API is robust and flexible, and allows you to build very complex HTML documents/interfaces. It is also completely written in PHP and (should) work on Unix or NT. Also, it isn't restricted to building HTML documents -- it could be used to build any ascii based document (postscript, XML, email - anything).
INITIAL VERSION: http://www.thewebmasters.net/
» Download:
» Demo:
» Support Knowledgebase:
Commonly asked questions about Fast Template and it's features. Please visit our forum.
» Questions?
Have questions about the software, how it works and whether you should buy it? Well why not ask us?
» Site using Fast Template
» System requirements:
Linux or Winows (or any OS which support Apache/PHP/MySQL), Apache 1.3.x with PHP 4.3.x or higher (may work with older versions but we will not provide support for that version), MySQL 3.x or higher.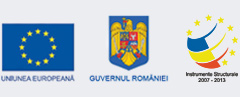 Programul Operaţional Sectorial "Creşterea Competitivităţii Economice"
"Investiţii pentru viitorul dumneavoastră"
Informatizare şi instalare de internet broadband la GraFX srl Proiect cofinanţat prin Fondul European de Dezvoltare Regională
Titlul proiectului: "Inovarea și dezvoltarea sistemului de comerț electronic al firmei S.C. GRAFX S.R.L."
Cod SMIS: 47124
Codul apelului de proiecte: POSCCE-AP3-O3.3.2 apel 2
Pentru informaţii detaliate despre celelalte programe operaţionale cofinanţate de Uniunea Europeană va invităm să vizitaţi
www.fonduri-ue.ro
Conţinutul acestui material nu reprezintă in mod obligatoriu poziţia oficială a Uniunii Europene sau a Guvernului Romaniei