Backup on Demand for PLESK

Category: Control Panel Addons
Vendor: GraFX
SKU: bodplsk
Product description
Backup on Demand, directly from PLESK Control Panel.
We know that the biggest problem that the server administrators are faced with is the backup solution provided by PLESK. We have encountered the same problem and we think we have found the solution to allow users (DOMAIN OWNERS) to make their own data backup very easily. We always recommend the administrators to backup their site but we need the user to backup his site as well occasionally.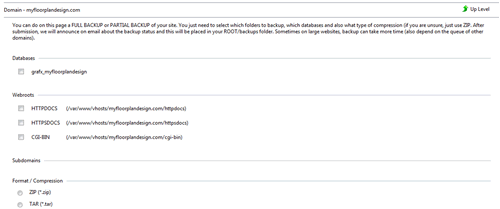 Below you have a few scenarios in which our solution may be used.
The developers of the customer's website need to modify something and for their security the domain owner needs a backup.
In case the developers do something incorrectly, everything is assured: both the files and the database.
Periodically the domain owner wants to backup his data and to download it locally.
In some cases when mod_suphp or fcgi is not used (when apache writes using a FTP client), with the apache flies: apache cannot download.
With this solution these files are archived and downloaded.
» Features include
Archive databases in separate files
Archive httpdocs/httpsdocs/cgi-bin in separate file
Archive subdomains in separate file
Archive it in domain owner ~root/backups directory
Send email when the job is done
Alert admin about backup queue
3 different archive files (zip, tar, tar.gz)
List of jobs history
Price
* Lifetime license, includes free program updates for one year and free support for one year. Extend support and free upgrades - 50% from package price (minimum 2 years).
** Require Power Toys - click here for more details.
Support Knowledgebase
- Commonly asked questions about SEO Tools and it's features. Please visit our forum.
Questions?
- Have questions about the software, how it works and whether you should buy it? Well why not ask us?
Requirements
- PLESK 7.5.x, PLESK 8.x.x, PLESK 9.x.x or PLESK 10.x.x, NOT TESTED YET WITH PLESK 11.x.x
- Require Power Toys
- GCC compiler for VHOST Config and Domain Alias
- Acces root to shell command line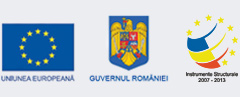 Programul Operaţional Sectorial "Creşterea Competitivităţii Economice"
"Investiţii pentru viitorul dumneavoastră"
Informatizare şi instalare de internet broadband la GraFX srl Proiect cofinanţat prin Fondul European de Dezvoltare Regională
Titlul proiectului: "Inovarea și dezvoltarea sistemului de comerț electronic al firmei S.C. GRAFX S.R.L."
Cod SMIS: 47124
Codul apelului de proiecte: POSCCE-AP3-O3.3.2 apel 2
Pentru informaţii detaliate despre celelalte programe operaţionale cofinanţate de Uniunea Europeană va invităm să vizitaţi
www.fonduri-ue.ro
Conţinutul acestui material nu reprezintă in mod obligatoriu poziţia oficială a Uniunii Europene sau a Guvernului Romaniei